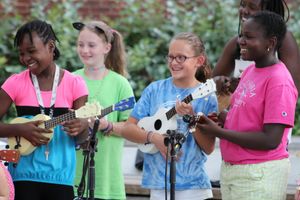 The Ukes on the Move project offers the spark to ignite the imaginations of young and old, while also providing the experience of success in acquiring a skill that is tangible and real.
After 5 weekly sessions, participants will learn the 3-4 simple chords and basic strumming techniques, enough to be able to play hundreds, even thousands of songs. Built into the program will be continued access to ukulele workshops and jam sessions after the initial five-session residency -- to help ensure sustained success. Another follow-up component is a five-session songwriting residency so that ukulele players can acquire the skills and confidence to write their own songs.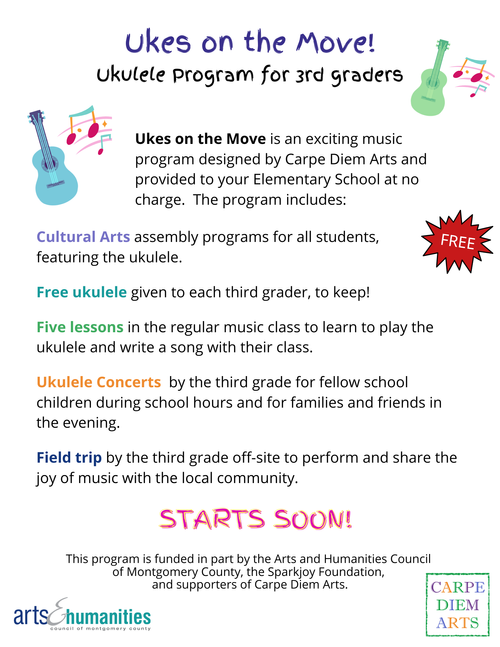 MATCHING FUNDS NEEDED
After last year's successful implementation of Ukes on the Move at 3 elementary schools, Carpe Diem Arts is back at it again in school year 2023-24.
We have been awarded another Wheaton Cultural Project grant from the Arts & Humanities Council of Montgomery County to bring our Ukes on the Move program back to to Title I Viers Mill Elementary School in Wheaton.
And we have received a grant from City of Takoma Park to deliver the program to Piney Branch Elementary School.
At each site, third graders will be given a ukulele of their own to keep, they will learn how to play 3-4 chords on the ukulele, they will collaboratively write songs, and they will perform at their school and at a nearby site off-campus.
While both these grants will contribute greatly to the programs, we still need your help to make ends meet. If you would like to give the joy of music to a child, please donate below.
Special thanks to the Sparkjoy Foundation for their support of all our ukulele programs.
We are so proud of our 3rd grade songwriters!
"

I love the fact that people don't see the ukulele as a serious instrument. A lot of people see it as more of a toy, and I love that because it just proves that people aren't intimidated by the instrument. They aren't afraid to pick it up."
— Jake Shimabukuro