The Fall fundraising season is upon us and our focus has been on writing grants, reviewing program data, preparing our FY 2018 annual report -- while also hosting our usual events and activities. 
Highlights this month so far have been: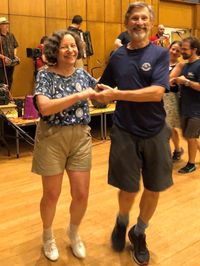 the kick-off of our 2018-19 season of Jump Start with the Arts Family Fun Night Out! with a dynamic performance of The Uncle Devin Show 
two concerts with local band Tinsmith (Brooke Parkhurst, Henry Cross and Rowan Corbett) at the Chesapeake Center for adults with disabilities, and the Brookletts senior center on the Eastern Shore 
a high-energy contra dance with caller Andrea Nettleton and live music by the awesome Frog Hammer Band (See photo of Anne Spielberg and husband Tom Armstrong, a Carpe Diem volunteer, celebrating Tom's 70th (unbelievable) birthday at the dance... with candles and cake and "Happy Birthday" played by the band!  

NOTE: Let us know if you have a birthday coming up--and bring your friends to dance and celebrate with you. A ready-made party complete with entertainment!

posting of our bi-weekly "Arts-to-You" e-calendar 
performances by Lea Morris, Duo Blanco y Negro de Cuba, Linda Harris Jazz Trio, and Liz Brinker & Sisters Uke at the Plum Gar Fall Festival in partnership with the Plum Gar Community Recreation Center 
attended one of the Maryland State Arts Council "We're Listening" sessions 
started up two Ukes-on-the-Move classes at Washington Revels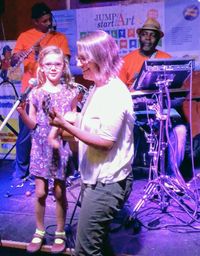 We hope to see you at our Community Family Sing on Sunday, October 21. 
Busy Graham
Zadie & Michelle Mosher introducing the Uncle Devin Show                                                                                                                                                       at Jump Start Family Fun Night Out, El Golfo, October 4