Ukes on the Move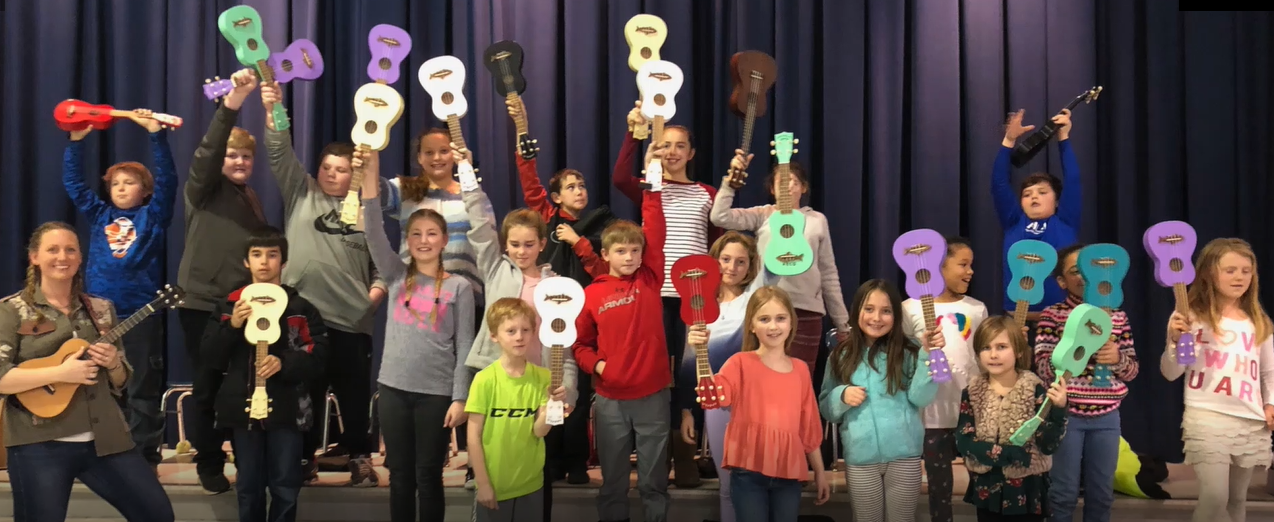 THE CHALLENGE TODAY: Montgomery County Public Schools found that second grade students' Literacy Readiness dropped a significant 35% from the 18/19 year to the 20/21 year when only 35-49% of students met expectations. The loss was greater for Black/African American, Hispanic/Latino, and FARMS students. In particular the Hispanic/Latino FARMS population dropped from 66% to 16% meeting expectations for Literacy Readiness. Students not proficient in reading by the end of third grade are 4x more likely to drop out of high school.
THE SOLUTION WE OFFER: Studies indicate music training can be a positive literacy aid, not only helping build literacy but retain literacy skills. The repetitive nature of songs helps set linguistic expectations. We are targeting low-income Spanish-English bilingual children aged students to receive 5 sessions of training on the ukulele in their normal school music class - and they will each be given their own ukulele to keep.
THE BENEFITS:  Students learn to play ukulele, gain resilience through trial/error, build confidence, learn to work in collaboration with others, feel pride in accomplishment, learn to express themselves through music and share their thoughts with others through music as they learn they can write their own songs, and are prepared for 4th grade band and orchestra opportunities. 
After one third grade class at Stedwick Elementary School completed the Ukes on the Move curriculum, students provided their feedback: 
Allison-"When I got my ukulele, I felt there was going to be a big future for all of us." 
Confirms positive impact on student's life with sense of hope and empowerment. 
Samuel: "When we play I feel like we are in another place. I feel happy like a bird flying." 
Confirms ability to reduce stress and change emotional state. 
Mya: "The lessons are making me a wonderful teacher for the new girl." 
Confirms positive enhancement of social emotional learning skills and empathy. 
Gaby: "Now we can give our messages to our world." 
Confirms learning a new communication tool and sense of empowerment.