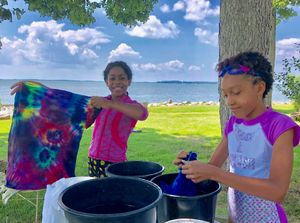 September has arrived with a mixture of gratitude, relief and exaltation after having successfully completed four back-to-back weeks of summer arts camps. Each week I treasure meeting new campers and reconnecting with returning campers, watching them develop new skills, make new friends and build self-confidence while creating remarkable works of art, learning international dances, playing the ukulele and writing songs! 
Our camp season kicked off in early August with a SleepAway Arts Camp on the Eastern Shore for 10-12 year old girls. The girls worked with celebrated MCPS art teacher Christina Campo-Abdoun to create tie-dye t-shirts and caps, paintings, and other projects. Longtime Carpe Diem Arts Camp director Binta Coulibaly did decoupage journals with the campers -- and we all performed on our ukuleles and led the audience in singing as part of the Muskrat Park Concert Series in St. Michaels. Other camp activities included yoga, dancing, kayaking, canoeing, swimming, bicycling to Deep Neck Farm to see the horses, and taking the ferry over to historic Oxford where everyone was treated to ice cream at the world-renowned Scottish Highland Creamery.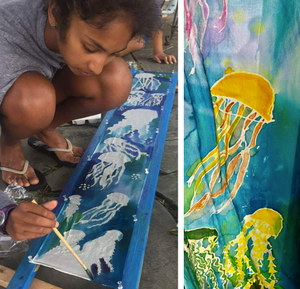 The second week on Broad Creek was shared with a wonderful group of 14 girls ages 12-14. Teaching artist Sue Stockman led her popular silk-painting workshop. After the steaming process, Sue delivered the scarves to the girls at that week's Muskrat Park concert. The scarves were so gorgeous that audience members and passersby asked if they were for sale! The girls also had the opportunity to work with the fabulous Lea Morris in a digital music and songwriting workshop; they painted bottle lamps with Ally Ger; and created collage light-switch plates and coasters with Ann Perper; plus paper lanterns with Binta and Reina Coulibaly. 
No sooner had the SleepAway camps ended than we packed up our art supplies and ukuleles and returned to the Washington area to run our two weeks of Carpe Diem Arts language immersion camps at Seekers Church in Takoma, DC. Along with playing ukulele and singing French songs, learning dances, and doing art projects, the French immersion week included walking field trips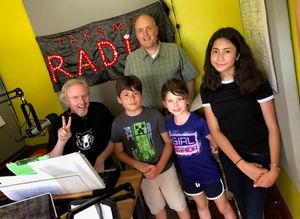 to the local splash park and to the House of Musical Traditions and Takoma Radio, where we had the pleasure of joining Michael Shereikis and Eme Awa during their "Jolly Papa" show. 
The next week's Spanish immersion arts camp, directed by Carmen Maria Quintanilla and Veronica Menendez, included many of the same activities and field trips -- this time catching the "Rock'n Roll Rabbit Hole" show at Takoma Radio, coincidentally hosted by one of our camper's fathers - Scott Williams - and his friend Walter. Many of the campers also performed at our Third Annual Ukestra Extravaganza and Parade on the Plaza, to great acclaim! 
Take a look at some more photos HERE -- highlighting our four weeks of Carpe Diem summer arts camps.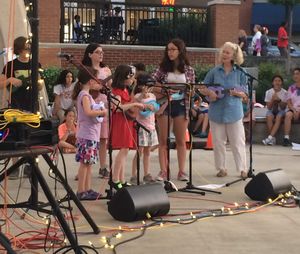 We look forward to seeing many of our Carpe Diem campers and families at the Takoma Park Folk Festival for our performance on the Grassy Nook Stage from 12:35-12:50pm on Sunday, September 16 at the Takoma Park Middle School -- and again at our Carpe Diem-Revels Community Family Sing, September 21, 6-8pm for a potluck picnic at Sligo-Bennington Park in celebration of the fall equinox. Here's hoping to see you there, too!
May the arts be with you!
Busy Graham 
Founder/Director
* * * * *
PHOTO CREDITS: Sue Stockman, Laura Cimo, Christina Campo-Abdoun, Busy Graham