For me, the arts and performance were always something other people did. That is until I met Busy Graham and Carpe Diem Arts at age 40. First I took a 4-week ukulele class, a present to myself for that milestone birthday. Slowly, steadily, I started participating in more Carpe Diem Arts-sponsored activities,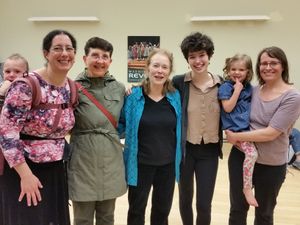 especially the monthly community sing, which my small children love to attend. 
 After a songwriting workshop, a choral residency, and a few more ukulele classes AND with the amazing arts-inspired community that I am now surrounded by, I am these days living quite a lot larger on the arts side of my brain. I even regard community singing and playing ukulele as hobbies. I have literally gone from a bystander to a participant in the arts. My life and everyone whose life I touch is better for it.
Embracing music like this in my adult life has added grace notes to my days. I have made new lifelong friendships, my advocacy for others in the community has grown, and my children have learned the joy of singing and making up songs on the ukulele. They are ages 3, 4, and 6 and know 0, 1, and 3 chords respectively. Where I felt reserve and trepidation about trying new things pertaining to the arts most of my life, my children are undaunted, delighted, and confident. They draw and paint with gusto and care. They sing and dance in front of and with groups. They want to perform and be filmed on my phone. They strum the ukulele while singing about love and family and friendship ... and Cutey Cute and Rainbow Bear (my little son's stuffed animals). Hearing their spontaneous made-up songs is like a real window into their souls. It is exciting to raise children with such enthusiastic and healthy attitudes toward art and self-expression.
So, that's my story. What have I learned from my experience that I can share? Let's narrow it down to four things.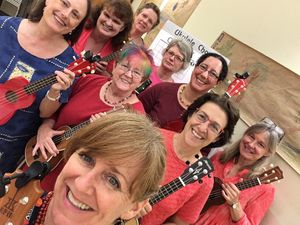 1. We all have arts potential, and even if not already experienced in the arts, we can start becoming an artist or deeper art appreciator any day we choose. That might be when we are 20, 40, 60, or 85. If it's when we are toddlers or young children, all the better! Singing and ukulele are great places to start! See these testimonials.
2. We should not allow fear of not being good enough to shut down our development. "If only the best birds sang, the woods would be silent." "Every expert was once a beginner." Those sayings on my high school guidance counselor's wall are every bit as true in the arts context as they are in work and life. Watch this excellent TED Talk by Tania de Jong to convince yourself!
3. Even if we are not sure of our place initially, we belong and can make a difference. Surely we are all richer in our belonging when we are part of a vibrant, local, arts-appreciating community. I think a lot more about artists now than I used to. I think about their creative process, their gifts, their sharing, their struggles, and I want to be a part of helping them succeed and bring joy to their own and others' lives. We don't all have to do the same thing. Some people prefer to be out front, some behind the scenes, some on the stage, some in the audience. We are interdependent, and all roles matter. We each have a part to play. Some people are truly gifted in the arts, but we can all participate and all support the arts and artists. My talents are more in the area of process, planning and courage to take on daunting projects (song books, brochures, and annual reports from scratch). Even without a known artistic gift, my skill set has allowed me to make meaningful contributions in support of Carpe Diem and the arts.
4. Artists of every kind are so important! My spiritual tradition says that artists and craftspeople advance the affairs of humankind, that perfecting one's art and work done in a spirit of service are forms of worship, and that the arts can uplift and transform both individuals and larger groups. Many people locally also understand the importance of artists and the visual, literary, and performing arts. Maryland Senator Will Smith, a Carpe Diem Arts advisory council member says: "The arts inspire hope, encourage creative expression, strengthen education and celebrate diversity. We must continue to find ways to support the arts in our schools and communities – an essential step in creating a stronger foundation on which to build our future."
To conclude, my actions now reflect these four lessons ... I role model my attitude of openness, support, and enthusiasm for the arts for all. No shame, no insecurity. I do what I can when I can. I feel truly blessed, even at this late date, to have found through Carpe Diem Arts my passion for the arts and for building bridges and community through the arts.