I have been waiting with great anticipation for the Carpe Diem Arts summer camp season to begin. For the past four years, I have had the great pleasure of working -- first as a counselor, and then as co-director -- at the French immersion, Spanish immersion and Sleep-Away camps. Spending several weeks every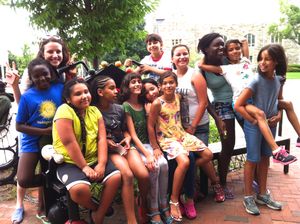 summer making art, cooking, dancing, singing, playing ukulele, and getting to know our wonderful groups of campers, has become such an important part of my life -- beyond what I could ever have imagined. 
Working at the Carpe Diem camps gives me the opportunity to exercise my creativity and experience the joy of both teaching and learning in a nurturing environment. After months of writing papers and attending lectures at Columbia University, spending my days with enthusiastic and curious campers is always a welcome change of pace. I look forward to seeing past campers and meeting new ones -- and to sharing great times together. 
Happy July! 
Binta Coulibaly 
(Binta is pictured third from right in this photo.)
P.S. We still have a few openings for 10-12 year old girls in our August 5-10 sleep-away camp on Maryland's Eastern Shore. It's hard to convey how special these camps are. You can get a notion by looking at these photos from last summer's camp. More info and link to registration HERE.   
P.P.S. Space is also available in our delightful Carpe Diem Arts Spanish Immersion camp for rising 3rd-5th graders, designed to prepare for the new school year, while also providing a whale of a good time! This year we are welcoming our new Spanish camp director, Carmen Maria Quintanilla.