School is almost out, summer vacation looms beautiful and big on the horizon, and as I configure summer growth opportunities for the four children in our blended family, I am grateful for Carpe Diem Arts. All four kids have been raised with a connection to Carpe Diem Arts – the programs and the community.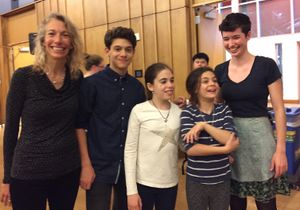 Our kids enhanced their language skills over the summer months away from school, with Isa in Spanish Immersion Camp and Nico in the French Immersion. Their experience with arts projects, field trips, singing, and dancing in their second language was truly delightful. They especially enjoyed meeting new children from all over the DC metro area who could converse with them. 
The overnight camps for girls at the Eastern Shore were another superb growth experience for our kids. Carpe Diem Arts creates a magical experience at a magical waterfront site, and the world expands and contracts as girls enter into a small secure space that is full of big world experiences. 
All four kids sing at the monthly Community Sings, but they don't just sing – they help prepare a dinner dish to share for the outdoor June Equinox Sing. Joseph and Loren help set up chairs for indoor Sings in July and August. All four kids set up snacks, clean up after snacks, staple song sheets and greet people at the door. It is so much growth and enjoyment for them, and sharing those experiences as siblings helps strengthen our blended family. 
And the Monthly Dances at the Silver Spring Civic Center provide us with the same, but distinctive, growth and shared community. The kids still participate and volunteer, but the dancing is an opportunity to connect more directly with community members and strangers – a chance to hold hands and look into the eyes of people who are the same (loving the music and the movement) and perhaps also different (the attendees are multigenerational, multicultural, and from various income or educational backgrounds). We dance together, we dance with others, and we are reminded that moving in unison contributes to the creation of community and the creation of family. [Photo above right shows Jo Rasi (left) with two of the four children from her blended family - Loren Riva-Clement (second from left) and Isa Riva-Clement (second from right) with friends June Paitshik and Molly Graham Hickman.]
We didn't get "born" as a family – we came together later. And some of the rituals and experiences that create family didn't happen for us – shared birth stories, beautiful toddler moments, family history, or even a concise definition of what "family" means. We had to create family, and while we all see how the arts can build community, it is more obvious to a blended family just how much the arts can also create family. So no matter how your family evolved, you might take a moment to think about the ways that sharing in music, dance and traditions has helped your family to connect, to grow together, and to strengthen your bond. The programs of Carpe Diem offer a chance for personal insights, tighter families, closer and larger communities, and a space to share happiness and love with our whole-world family. 
Please join my family, and our larger family, at a Dance or Sing this summer, and consider the camps for your kids. You'll be glad you took the time to connect, share and experience the world through Carpe Diem Arts.