The month of May always brings a bustle of activities into our lives: May Day celebrations, Mother's Day and college graduations to name a few. Carpe Diem Arts is offering five great public events to add to this mix. See our May newsletter or our calendar for details!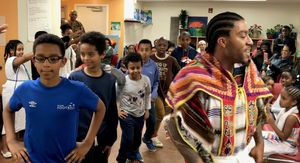 Our Youth ArtBeat afterschool outreach programs are also brimming with activities. In the African Arts, Culture and Education (ACE) Academy, students have recently completed a Swahili language residency with Kenyan teaching artist Anna Mwalagho. The amount of Swahili the first through fifth graders learned in just six weeks time is impressive. Of course, Anna made learning easy and fun by incorporating songs, games and dancing. 
The students are currently working on the "Friendship Bench" project with teaching artist Denise Jones, who is also our Community Engagement Director and owner of Brass Ring Company. In this four-week residency, students are learning about the social-emotional and mental health benefits of friendships and safe spaces in which they have a voice. They are applying their artistic talents in creating designs to paint on the benches. 
On Saturday, May 19, students from ACE Academy will perform Ethiopian Dance with teaching artist Thomas Young at the annual Celebrate Takoma festival. The photo (to the right) of Thomas and ACE students performing at a parent celebration portrays the students' deep concentration on the elaborate choreography, as well as their joy and enthusiasm for dancing.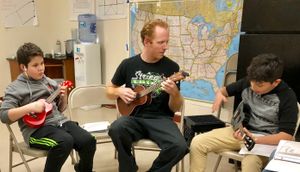 The middle school Youth ArtBeat students in Wheaton are in the third week of a ukulele residency with Janie Meneely. The students have been surprised at how easy and enjoyable it is to play the ukulele. Some students will join us at El Golfo Restaurant on May 3 to give a cameo performance at our Jump Start Family Fun Night Out. Later this month, Janie will lead a two-week songwriting residency, giving the students an opportunity to acquire the skills and confidence to write their own songs. We are grateful to Montgomery Housing Partnership (MHP) and to the Arts and Humanities Council of Montgomery County for their support in providing these cultural enrichment experiences to the Wheaton middle-schoolers.  Extensive research has shown the direct benefits of arts engagement and music education on students' academic achievement and social-emotional development. We'd also like to extend our thanks to Chuck Levin's Washington Music Center for their generous donation of ukuleles and tuners for this program. 
Do you work with or know of a community that could benefit from our Youth ArtBeat program? Contact us to see how we can work together to Bring the Arts to Life!