Hello! These first few months of 2018 have been full to the brim of exciting events and activities -- and great leaps forward for Carpe Diem Arts. Our biggest news is that we received our 501(c)(3) designation as a nonprofit, and can now receive direct donations of tax-deductible funds and in-kind support. We remain immensely grateful to Artivate (formerly Class Acts Arts) for having served as our fiscal sponsor for several years. Our remarkable board of directors also deserves thanks and praise for the key role they have played in this process. Another major achievement this year has been the production of our first Annual Report for FY 2017. 
Some recent highlights: 
--- The launching of our second year of Youth ArtBeat after-school programs for middle schoolers at the Pembridge-Amherst apartment complex in Wheaton: a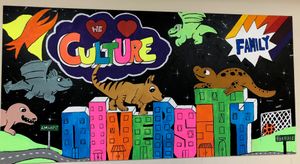 collaboration between Carpe Diem Arts and Montgomery Housing Partnership, Impact Silver Spring, DaVinci's Apprentice, and Brass Ring Company -- funded in part by a Wheaton Cultural Project grant from the Arts and Humanities Council of Montgomery County. On March 29, Carpe Diem Arts co-hosted a Community Celebration after the completion of the middle school students' mural project during Spring Break with teaching artist Arturo Ho. (See photo to the right.)
--- The African Arts, Culture and Education (ACE) Academy program is going strong in its third year of operation. Led by the Collaboration Council of Montgomery County in partnership with Carpe Diem Arts, the Community Preservation and Development Corporation, DaVinci's Apprentice, Brass Ring Company -- funded by a 21st Century Learning Grant, with additional support from the City of Takoma and the Takoma Foundation --  the project continues to receive high scores. We are still waiting on word re. funding for FY 2019 and keeping our fingers crossed. 
--- A memorable multi-generational songwriting workshop with Mary Amato -- which has already inspired the composing of numerous new songs. 
Here are links to photos from recent programs and activities: 
African Arts, Culture and Education (ACE) Academy 
Jump Start! Family Fun Night Out at El Golfo 
Ukulele and Songwriting Classes with Mary Amato, Liz Brinker and Maureen Andary 
Another highlight, as always, was this year's Maryland's Arts Day when 500+ artists, arts organizations and arts advocates come to Annapolis for a pep rally and to meet with their representatives in the Maryland Assembly. 
This year's recipient of the Sue Hess Award is Sandy Oxx from the Carroll County Arts Council. I wanted to share her compelling acceptance speech as a reminder to us all -- as to why we work so hard to promote and fund the arts as a vital part of our lives, our schools, our towns and communities.   
We hope to see you at some of our upcoming events. 
May the Arts be with you!   
Best wishes, 
Busy Graham 
301-466-0183 
busygraham@carpediemarts.org