Daily Antidote of Song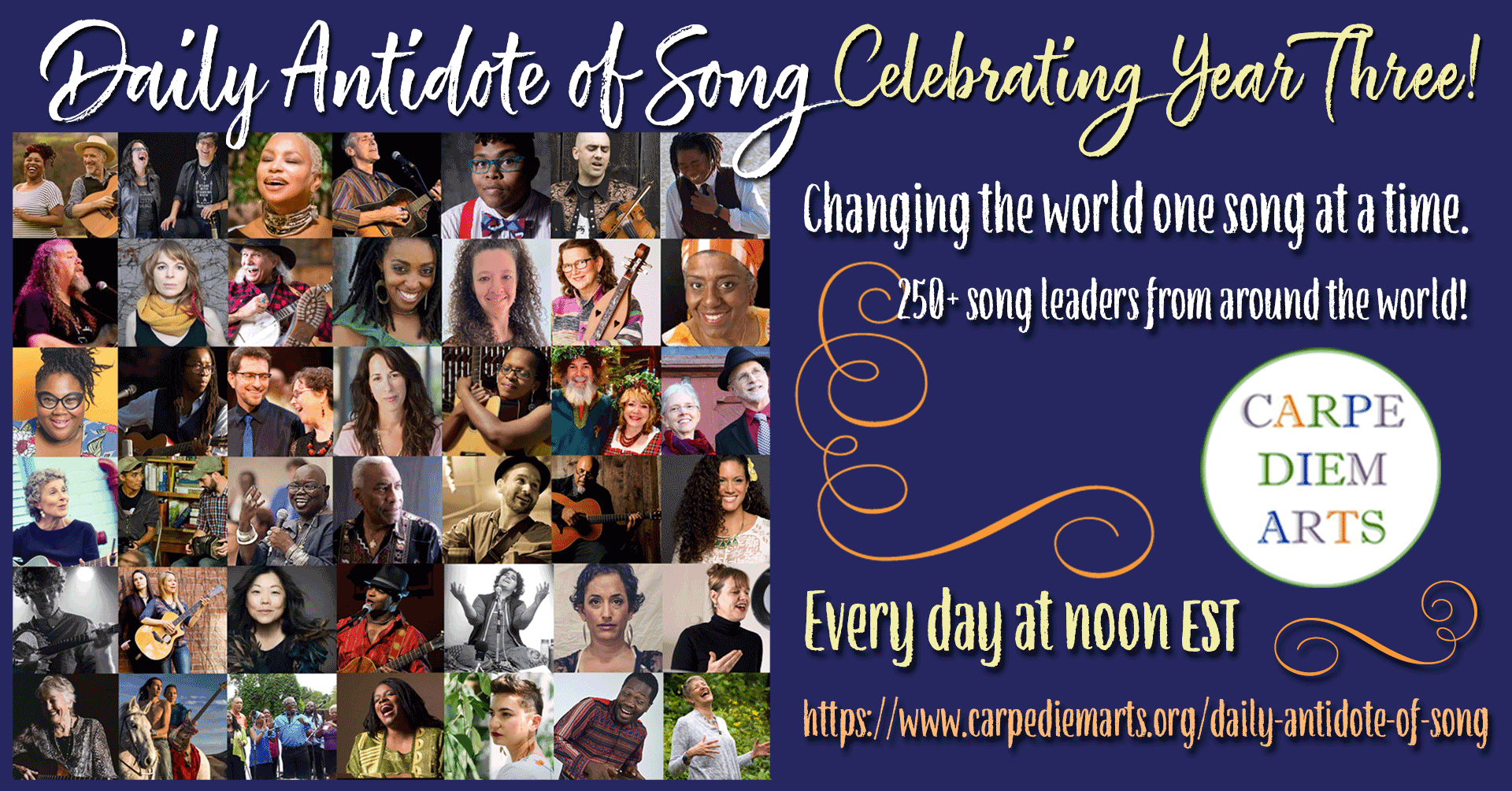 THE CHALLENGE TODAY: In 2020, the pandemic drove us all to stay in our homes. At first, we were isolated, but soon with applications like Zoom and Facebook Live, we connected with our coworkers, families and friends. During the height of the pandemic, many organizations, including Carpe Diem Arts, shifted to virtual programming to reach their communities and beyond. This helped participants feel connected despite being physically isolated. These virtual programs also benefited another group - the homebound, whether due to being elderly, immunocompromised, or otherwise immobile. As virtual programs start to fade away and shift back to in-person, the homebound are fearful of being left behind, alone and isolated once again. Research shows that in 2017, 20% of men and 34% of women, age 65 and over, lived alone. According to the study, "The proportion living alone increases with advanced age. Among women age 75 and over, for example, almost half (45%) lived alone."
THE SOLUTION WE OFFER: Carpe Diem Arts runs a sing-along program every day at noon eastern time on Zoom and Facebook Live. With varied and diverse musical artists, participants learn the lyrics and sing new songs and old favorites from the world of folk music, the civil rights movement, and songs of love and peace from around the world. Conversations between the host and the artist cover topics tied to the song, the history of the musical genre, information about the instruments, and so on.
THE BENEFITS:  Greeted by name, participants feel welcome and emotionally connected. Different from a television show, the community of regulars feel like this is their program. They interact with each other, the host, and the artist via texting in the chat feature on Zoom. They belong to this community; they have a place to be where others look forward to seeing them, and where their virtual community notices and checks in on them when they don't show up. To know someone else cares can be life-sustaining and the music is spirit-lifting. In turn, the Daily community is working on projects with social impact, finding ways to make a difference. 
Participants shared their thoughts on the Daily Antidote of Song: 
Cheryl: "The Daily Antidote has transformed from uplifting to sustaining." 
Confirms positive impact on participant's mental outlook. 

Sarah: "The Daily Antidote of Song has helped me feel less isolated.
Each day I leave feeling a part of a community and filled with song." 
Confirms positive sense of community. 
Duncan: "The Daily Antidote of Song is so deeply healing and life 
affirming, bringing light, joy, love, laughter and hope!!!!" 
Confirms positive impact on participant's life and mental outlook. 
Anne: "It's a daily dose of community and song,
sometimes celebrating or grieving together, and ultimately sharing hope." 
Confirms social emotional connection and empathy.